San Antonio is filled with high quality soccer talent that is just emerging into visibility. Recently, SAFC announced several players attending US Soccer camps, most notably U-15 standout Leo Torres, who received his first cap with USYNT and SAFC USL team. These players are at the start of their national team journeys, fighting to prove themselves through the process. We don't have to wait to see a San Antonio player logging national team minutes in significant tournaments; we already have our very own Jillian Martinez.
Picture: http://www.lonestar-sc.com/news/post/lonestar-girls-among-da-winter-showcase-best-xi
Martinez plays club soccer at Austin's Lonestar SC Development Academy (DA) team. Lonestar's DA team is the closest female US Soccer Development Academy to San Antonio. Many view DA programs as the pinnacle of youth soccer, identifying the best talent in the country and providing them with the best coaches and competition, ideally acting as a feeder program for the national team. She attends James Madison High School here in San Antonio, where she has helped contribute to their soccer team this season. She graduates in 2020 and has committed to D1 college UCLA, ranked 7th at the end of this past season. No doubt they weren't the only ones courting her.
Being a student athlete is about balance and time management: practice, homework, school, games, but being an elite athlete who has practice two hours away one way, mixed with regular travel out of state, is a different set of challenges. Martinez made the Academic All District Team while at Madison for her work on the field and in the classroom. She is also a member of the National Honor Society. This is a significant achievement for any high school student but notable for Martinez as she is doing homework in the car or studying well into the night.
On August 20, 2018 DA released a video on Martinez and her journey. Her near daily routine of driving and practice are just partial evidence of her grit and dedication to be the best. Martinez and her mom talk about the sacrifice of time, a social life and some night's sleep to make this dream happen. In the interview, Martinez shares that "my 12th is my mom," who helps make this commitment possible. Her mom shares in the video, "She is driving this. She wants to do this. She just enjoys being in that environment. It's a competitive environment, and she really enjoys it."
Picture: https://www.socceramerica.com/publications/article/77970/youth-us-u-16-girls-beat-switzerland-portugal.html
The road to a National Team cap is not instant. It is filled with seasonal club games, ID camps, training camps, ODP and Combines. There are players who track every year with these opportunities who may never see international play. Martinez's career with US Soccer began in 2014 when she took part in the US Soccer Combine and Region 3 ODP training camp. In 2015 she attended more US Soccer camps and events and started to get noticed more. Again, she attended US Soccer Combine and both ODP camps, but she also attended U-15 GNT training camp in March and May, plus ODP Interregional Training and US Club id2 Program Training Camp. In 2016 she participated in four U-14 GNT training camps. In 2017 one U-16 GNT camp. In 2018 two U-16 GNT camps. Most importantly, in 2018 she got to experience international play at the U-16 GNT UEFA Development tournament in Portugal, earning an international cap. Martinez has played both midfield and forward positions for the USGNT. Martinez is reaping the rewards of all the long hours put into this route. International play wearing your country's crest is the apex of the long climb to the top.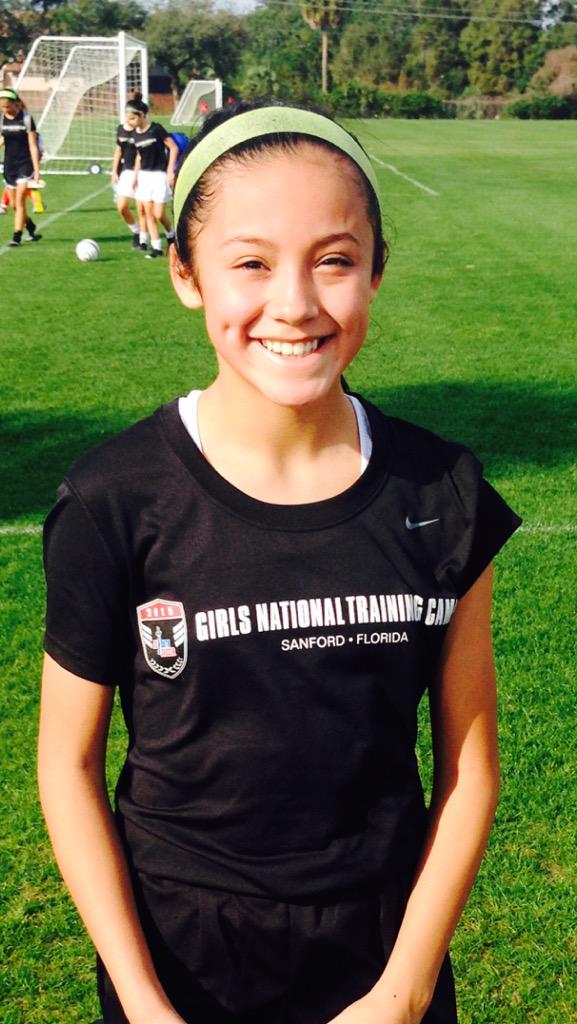 Picture: https://twitter.com/lonestarscsa/status/558749116289650688
It's no surprise that Martinez is having a steady rise with her soccer career as she is playing in the hard to get in to DA program, but she was also playing up in terms of age group early on. At the age of 14 she was training with the U-15 and U-16 USGNTs. It is no surprise then that she is regularly bestowed with honors being named to the ODP state and regional top 11.   
This summer on TV you will see the likes of Rapinoe, Morgan and Ertz as they compete in the Women's World Cup, but you will also see newer faces that have reached the height of their journey, similar to the one Martinez is now traveling on, Pugh, Lavelle and Horan. These teams are built on a strong youth pipeline that feeds fresh new talent with opportunities. Keep your social media tuned to the USGNT to glimpse San Antonio's top talent.  All eyes are tuned to the USWNT and France, but don't let your gaze stray too far from home, or you might miss something else that's special. Martinez's trajectory is bright and promising of more international caps in her future.